Makers Market + art + gits + workshops + food + bar + music + MORE!!
🎄Winter Pop-Up!

Fri 16th - Sat 17th Dec 2022, 4 Hollybush Row, Oxford OX1 1HU

Since moving out from East Oxford Community Centre in May this year, Fusion Arts has been popping up in different locations across the City. As part of an ongoing programme of reactivating empty spaces, Fusion Arts and partners are bringing art and creativity to the heart of the city. For one weekend only Fusion Arts along with Divine Schism and Big Scary Monsters are breathing new life into 4 Hollybush Row, part of the former Frank Cooper's Marmalade Factory.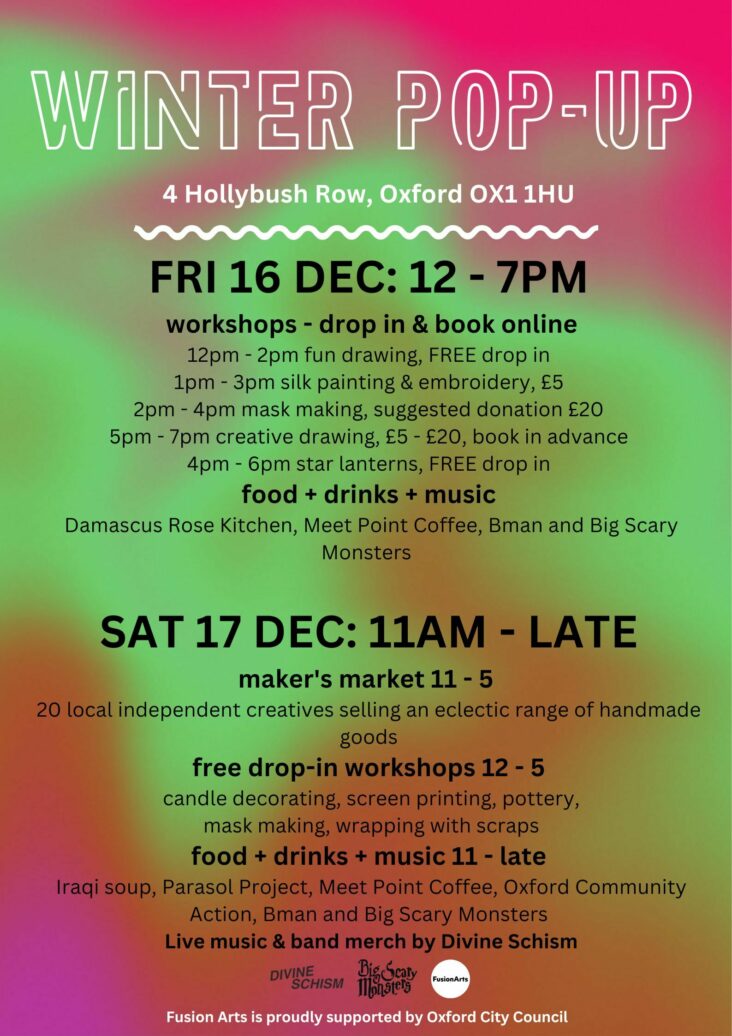 On Friday 16th December between 12 - 7pm, there will be a programme of creative workshops led by local artists. The skills on offer include: drawing, silk painting & embroidery, mask making & lantern making. For details on the workshops & booking info, please head to our workshops & classes page. As well as workshops, there will be food & drinks by Damascus Rose Kitchen, Meet Point Coffee, Bman Brewery and Big Scary Monsters.
Saturday's programme is action packed and runs from 11am until late. For alternative holiday gifts, check out the makers market on Saturday between 11am - 5pm. There will be around 20 local independent creatives selling an eclectic range of handmade goods. Running alongside the makers market between 12 - 5pm will be a series of drop-in workshops such as candle decorating, screen printing, pottery and sustainable gift wrapping. All these workshops are family friendly and free of charge. There will be food & drink from a number of community organisations such as traditional food by Iraqi Women Art and War, The Parasol Project and Oxford Community Action. Enjoy a coffee by Meet Point and locally brewed beers from Bman and Big Scary Monsters. In the evening there will be live music and local band merch by Divine Schism.
Fusion Arts is supported by Oxford City Council.