An installation of glass sculptures, hangings, lighting, and soundscapes, accompanied by a personal essay exploring how we relate to what we don't know, we don't know.
Scroll Below The Fire Image To See Our Access Statement.
Speed of Trust: Sculptural Installation by Rosie McLean proposes a consideration of the negotiations between choice and chance in the formation of our intimacies and perceptions ; how far will you go? For how long? For who? And, perhaps most importantly, why?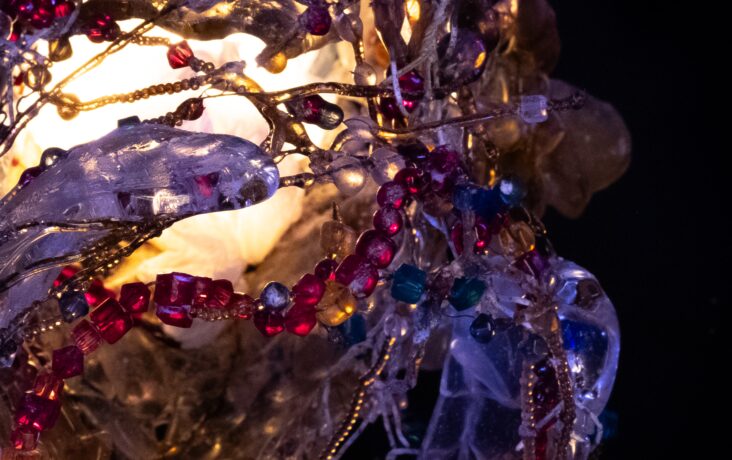 In an immersive art installation of glass sculptures, hangings, lighting, soundscapes, and a personal essay, viewers are encouraged to explore our connections with one another and the world. The exhibition delves into the intricacies of these connections, the risks and rewards of challenging our preconceived notions and making the familiar unfamiliar.
The showcase includes a large work-in-progress beaded tapestry and a series of spectral glass sculptures crafted outdoors during ritual bonfires. These sculptures pay homage to fire festivals of European agricultural communities prior to the 1800s; celebrating the cyclical nature of destruction and renewal.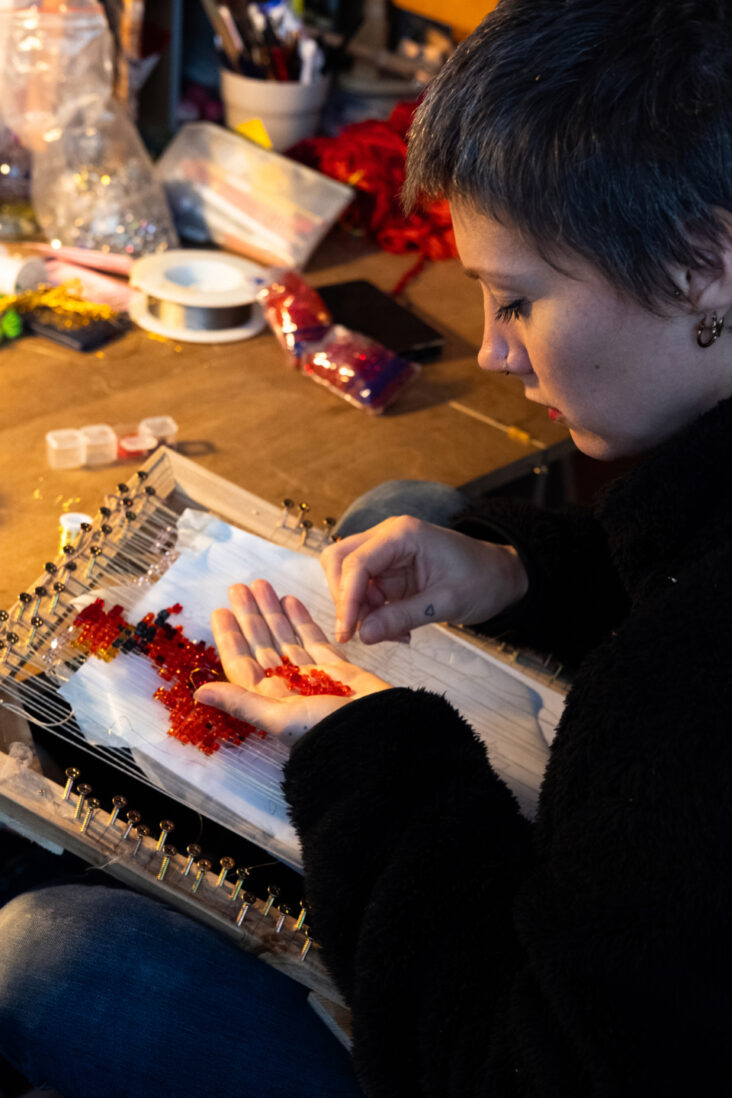 This creative process originated during Rosie McLean's 2022 residency at the Scottish Sculpture Workshop and has been further developed in collaboration with artist and somatic practitioner Assia Ghendir. Recordings of Assia's vocals from these collaborative sessions will be presented as part of the installation.

Open: Weds - Sun, 25th Nov - 8th Dec, 11am - 6pm
Opening Party: Fri 24th Nov, 7 - 10pm with DJ's from Young Women's Music Project
Fusion Arts, 95 Gloucester Green, Oxford, OX1 2BU
Photographs by Agnes Diaconu and Felicity Crawshaw
This exhibition is funded by Arts Council England and a-n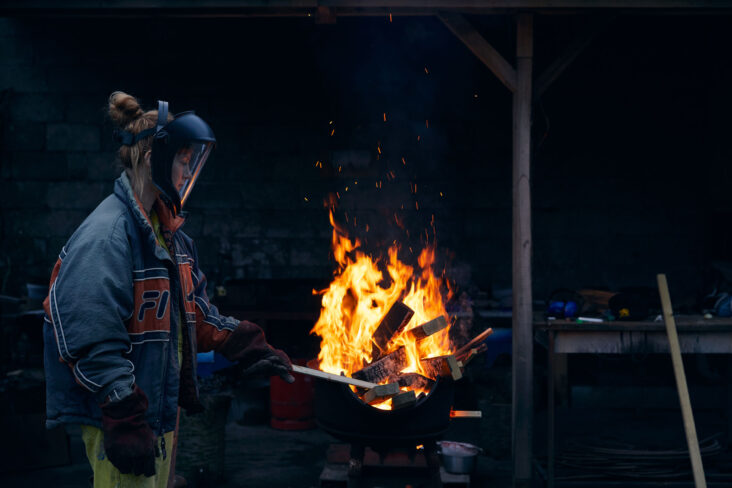 Speed of Trust at Fusion Arts, 95 Gloucester Green
Accessibility statement
"The arts have a role in enabling people to live full and meaningful lives".
All Party Parliamentary Group of Arts, Health & Wellbeing
This is only the case if we make a conscious effort to welcome diversity into our art spaces. Speed of Trust has tried to do so, within the context of the exhibition, but we welcome feedback to improve and to hear how you felt being in the space we have cultivated.
The statement covers the following topics:- Wheelchair accessibility. Arriving at the venue including parking. Opening Party sound details. Orientation. Lighting. Audio Descriptions. COVID. Heating. Toilet Facilities and Baby Changing.

If your questions are not answered by the below, please email info@fusion-arts.org with *Accessibility* in the subject matter title and we will get back to you as soon as we can.

Wheelchair Accessibility
- Entrance is wheelchair accessible, and doors will be invigilated by Fusion Arts and Speed of Trust representatives (who will be easy to identify) to ensure appropriate support for anyone with additional needs. There are no stairs inside the venue which limit access.
- There is a wheelchair accessible fire exit.
Arriving at the Venue
- Blue Badge Parking: several within a short distance, shown at the end of this statement on a map. Please note Gloucester Green car park is not accessible. Worcester Street and Oxpens car parks are accessible.
- Public Transport:- George Street has several bus stops - the Redbridge Park & Ride 300 stops here as well as many other buses including City 35, Stagecoach 14, S1, S2, S3, S7.
- Bicycle Parking: ~1 minute walk from the venue.
-The venue looks like this from the outside:-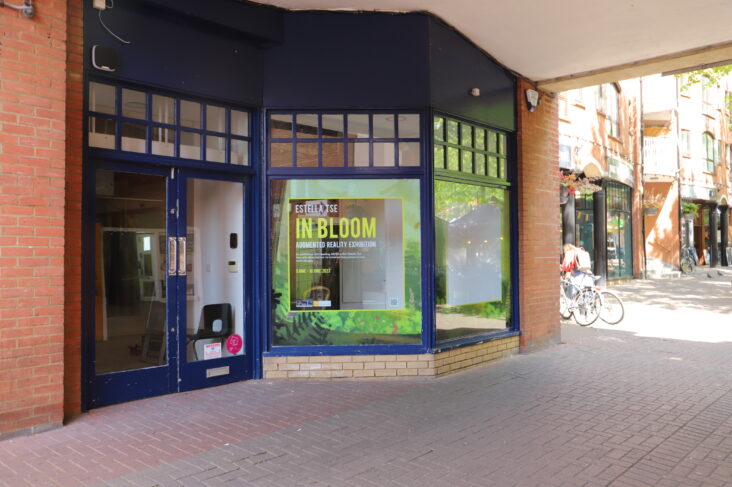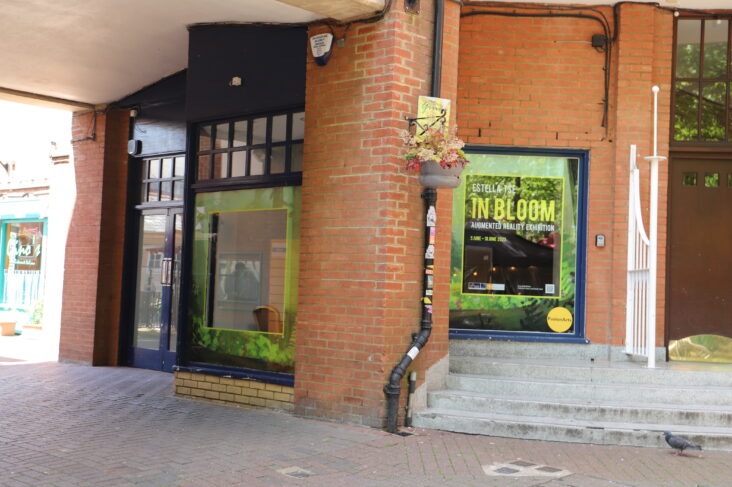 Opening Party
The opening party takes place Friday 24th November, 7pm - 10pm
Sound:
6-7pm: Special viewing without amplified music for anyone with who prefers or needs
7pm - 10pm: with amplified music: quieter for 7- 8pm, louder 8 - 10pm.
- Ear plugs will be available at all times, for anyone who would prefer to use them.
- The layout has been designed to be accessible by wheelchair.
- There will be an additional sound art composition by Assia Ghendir, which can be listened to with headphones provided.
- A written description of the soundscape will also be available for anyone who prefers or needs.
Orientation:
To help orientate yourself in the space, there will be a floorplan of the space available on your arrival.
- Fusion Arts and Speed of Trust representatives (who will be easy to identify) will be available if you have any questions or need any additional support.

Lighting:
The exhibition will have low level lighting, but exits and toilets will be clearly indicated.
- Visitors will be provided with a small torch at the entrance, to help examine the artworks.
- There is a well lit space which anyone can go into if needed, with its own (sadly non-accessible) exit, if you prefer to leave the event directly from the well lit space.
Audio Descriptions
Audio alternatives of all of the text on the wall will be available for anyone who prefers or needs. Audio descriptions of all of the individual art pieces are also available.
- You are welcome to bring your own headphones to listen to these if you prefer, a number of headphones will also be provided for those who need them.
COVID
Disposable masks and hand sanitiser is provided at the entrance to the venue for anyone who should wish to use these.
Heating
The space is heated comfortably using flexible, portable heating.
Families
Children are welcome to attend with responsible adults, but please note there are no dedicated children's activities and the artwork is fragile - and some is situated within the reach of small children.
Toilet Facilities and Baby Changing
- Toilet is a single cubicle toilet for all genders, with a sink located inside the cubicle.
- Lights are on motion sensor, please note there is a slight delay before they come on.
- There are also public toilets at the bus station 2 minutes walk away if needed, including an accessible toilet (amongst others, shown on the map below) and dedicated baby changing facilities, open daily 8:30 - 5pm. There will be a map to help you find these toilets, inside the venue as well.
- Other venues in Gloucester Green, including The Old Fire Station, have toilets which can be used after 5pm. Access is from the George Street entrance after 4pm.