The Underhill Circus was a commission to create an artwork plus input into wider soft and hard landscaping scheme for the centre of a newly regenerated shopping area and neighbourhood called Underhill Circus, in the heart of Barton, Headington.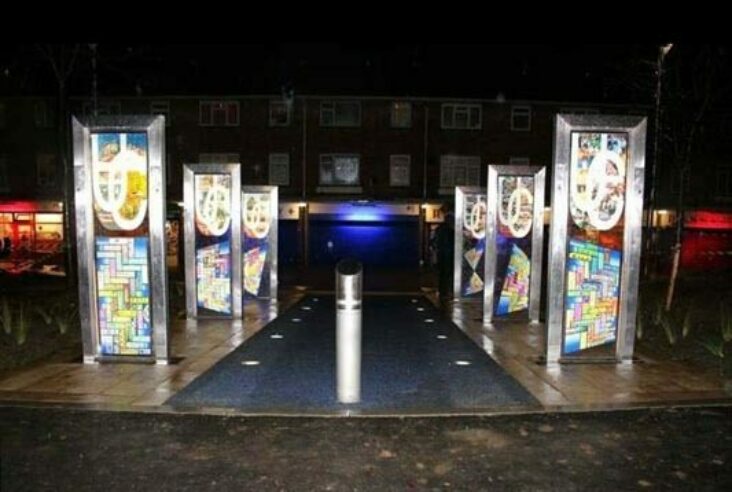 This project resonated with other public art features already in place such as the Garden of Respect and the Smile Barton Wall, which was part of the Dead Space project. Underhill Circus gave local people the opportunity to generate ideas and contribute to the creation of the artwork, 'In That Light', as well as to explore and take part in the creative process while community groups come together.

Following workshops with the local community special lighting was designed for the amphitheatre area of the Circus: a coloured 'wall-wash' curtain of light runs along the shops, coloured spots create 'spokes' of light across the floor of the amphitheatre, imaged floor lights punctuate the central path.
The main focus comprises 6 illuminated imaged glass panels framed in stainless steel (2.5m x 1m) which explore the history and identity of the Circus. The artists who created this work were Katy Beinart and Peter Dunn.
Funded by Oxford City Council and managed by Fusion Arts, the artwork was launched on 11 March 2008 and went on to win the Oxford Preservation Trust Award (08) for 'projects that make a significant contribution to the conservation and improvement of the built or natural environment'.