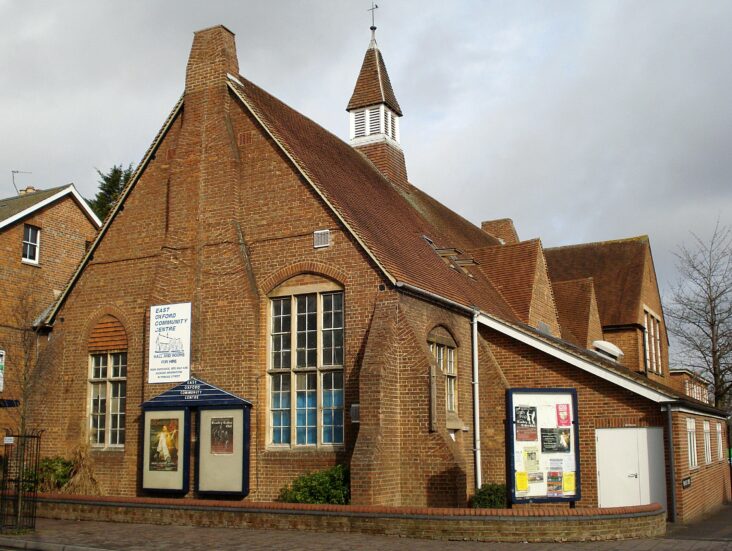 The organisations and groups based at East Oxford Community Centre along with the local community are demanding a halt to the current unfeasible and outdated plans proposed by Oxford City Council's redevelopment scheme.

Having worked closely with Oxford City Council over the past seven years to help shape a much needed investment and refurbishment of East Oxford Community Centre, it is now apparent that current plans are no longer fit for purpose. We want to instead find a solution for this. Let's do the right thing now for the future of our community!
Please sign the petition today to help #SaveEastOxford Community Centre and share it with your friends, family and community: www.change.org/saveeastoxford
Why Fusion Arts and our fellow EOCC tenants have issues with the current plans
NOT Viable
The current £5.4M investment scheme is wrapped up in selling off multiple plots of community land for premium, non-eco flats. The housing will not have parking and will not serve the community. 50% of these flats are not for social use. Plans are to refurbish the main community centre and build a three storey extension to replace the buildings demolished on site. According to Oxford City Council sources, expected material and building costs have already increased by over 20% (and in some cases these costs are 70% higher). The project is therefore already over budget and evidently unaffordable and undeliverable! Particularly as our cost of living is going up and up.
NOT Environmentally Sustainable
The plans are outdated. Since starting the planning process in 2015, a lot has changed. Oxford City Council have recognised Climate Emergency (2019) and are driving forward at pace with plans for a zero carbon city. There is more extreme weather and food security is more vital now than ever. The plans to demolish the two buildings at the community centre in order to build a new one fly in the face of current best practice. The CO2e impact and running costs make a mockery of the Zero Emissions Zones being imposed elsewhere in the city.
NOT Suitable
At this time more than ever, following an unprecedented pandemic, a cost of living crisis and war in Europe, we need accessible community spaces where communities can come together and be safe. This proposal will see the closure of vital community spaces, venues and facilities for over two years. Delays are inevitable if the money isn't there. Damage to the communities and loss of important social and cultural heritage is inevitable as the project is already unaffordable and unachievable within the current budget available and at risk of continued delays.
This programme sees the removal and destruction of community services and will sell off community spaces for years to come.

Please help us halt these detrimental plans by signing the petition to #SaveEastOxford Community Centre and share it with your friends, family and community: www.change.org/saveeastoxford
Quotes
Ciaran Walsh, Chair of East Oxford Community Association took to social media to comment:
"To build a block of flats on the community centre represents the privatisation of public space…It is a loss for future generations. That space can not now be developed for community usage. It's not good enough, it is taking valuable space away from the community."
Kieran Cox, Artistic Director of Fusion Arts commented:
"The current redevelopment plans are counterintuitive. They do not take into account the best interests of those they claim to serve, either in the short or long term and instead risk being seriously detrimental to Oxford's communities. Our current social, economic, environmental and political climate means that the community needs more support and space, not less!"
Junie James, Director of African Caribbean Kulture Heritage Initiative is asking directly for community support:
"We have a struggle on our hands. We need your support. Lobby your local councillor. There is a local election on Thursday 5th May. Use your vote. Join us on Wednesday, we are having a gathering at the Centre. Come to give your support. We need councillors to reconsider and halt their plans to demolish perfectly good buildings, save money and refurbish. Keep community assets in the community and for community use."
Stig of Oxford GreenPrint is concerned by inadequate interim relocation plans:
"For many decades the EOCC has been a fantastic space for a diverse range of community groups to provide support to thousands of East Oxford residents: from art, yoga, music, pottery, a library, meeting rooms, benefits advice, companionship, befriending, cookery, hot meals for refugees, political events and parties. Moving us all now into an abandoned video-game shop is not really furthering the 'community spirit'.
Many of the groups who use the EOCC have events in the evenings or at weekends - classes, meetings, workshops, performances, drop-in support groups, etc. But the new space we've been offered by the Council is only accessible during office hours. Are we expected to just cancel all those activities?
Moving a diverse network of community groups from a Community Centre into a Shopping Centre will not be easy, and will require some careful modifications: accessible toilets, a lift, lockable doors, functioning fire escapes, etc. A week before we are to move there, none of these changes have even begun to happen."
Filda Abelkec, Co-ordinator of BK.LUWO spoke on the negative social impact of the plans:
"The EOCC has been the best thing that happened to us older women (especially the older refugees / immigrants who have made this a neutral place to meet, break isolation, share and learn new things).
With help from different organisations and churches, BK.LUWO had got permission from the council to put up very essential storage space, and a private safer meeting space for distressed women to talk and share.
It is going to be near impossible to find another place to give this assurance, and is taking hope away from these senior citizens at a time they were looking for stability.
We hope that the council will reconsider this move, even if just on compassionate grounds."
Rawz, Founder/Director/Lead Practitioner at Urban Music Foundation, commented on the importance of the EOCC remaining:
"This is the place where I learned I could write poetry, where I led my first writing sessions with young people, where I hosted my first gig. It set me on the career path I have been on for 20 years. It inspired me to start my own business, through which I have helped and supported hundreds, if not thousands of people to express themselves, gain self-confidence and connect with others through music and creativity. It has been the perfect venue for several workshops I have put on recently with young people, I don't know of any suitable alternatives locally. It is also one of the only creative spaces in the city accessible to wheel chair users.
EOCC has served its community for nearly 50 years, and the plans for a replacement are not viable, particularly with other community centres in the city due for demolition in the coming months too, displacing and dispersing groups that have represented our community for decades, with no guarantees of a new home. Even in a best-case scenario there would be nothing on this site for at least two years, which would lead to the dispersion of many groups, and many people missing out on opportunities to find community.

No one would argue that the existing community centres don't need some work, they have been neglected and underappreciated for as long as I can remember. But this mismanaged and ill thought-out eviction process is not a suitable solution. I urge OCC to rethink this process with greater involvement from the communities and organisations it professes to serve."