Veronica Cordova is a multifaceted artist based in Oxford who creates artworks that touch on subjects of trauma, violence and striking societal research. Cordova creates paintings, risograph prints, performance artworks and the documentation behind them, working both on her own and in collaboration with other individuals and groups. In her artistic process, she aims to identify, name, and transform symbolic violence and white patriarchal and racist policies into artworks that resist their effects against herself and others.
94,000 Mexicans to be Found is reproducible statement artwork responding to the disappearance crisis in Mexico. When first displayed at the Glass Tank Gallery in 2016, the work was titled 27,000 Mexicans to be Found, which shows the shocking developments made in this story over the last 6 years.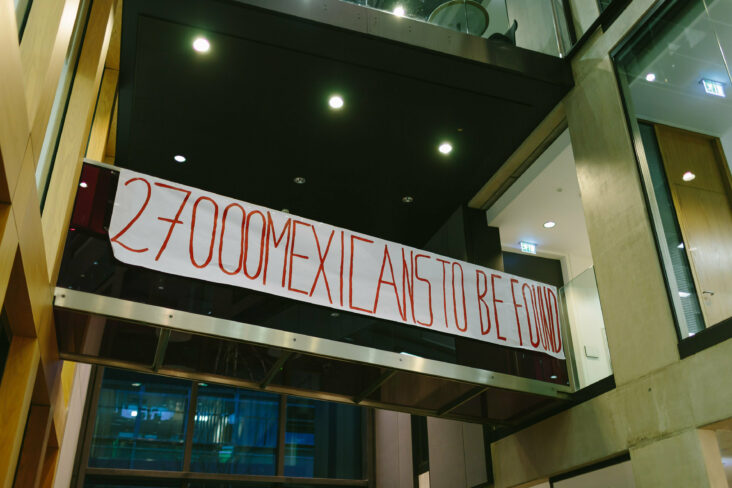 Cordova explains:
More than 94,000 people have disappeared in Mexico, most of them since 2006. It's the worst crisis of the disappeared in Latin America since the Cold War.
The title of this action '94 Mexicans to be found' aims to be read as a positive phrase, a sentence that opens possibilities to find the victims, but the number of missing people increases every year and this unexpected change in quantity makes the title of the work obsolete. The performance can be repeated in different places and with a different quantity of numbers and cipher of numbers in the title.
"Up to 30,000 in Argentina, as many as 3,400 in Chile. And Mexico's numbers keep rising." Mary Beth Sheridan- Correspondent covering Mexico and Central America for the Washington Post.
94,000 Mexicans to be Found is on display in the #WindowGalleries along Friars Entry in Oxford, OX1 2BZ from Monday 11th April until the end of the month, free and available to visit at any time.

The #WindowGalleries are an innovative collaboration between community organisation Fusion Arts and The Randolph Hotel by Graduate Hotels that connects and supports Oxford's communities by creating a lively space for the public to experience inspiring work by local artists.