A vibrant new exhibition celebrating African heritage and diaspora has just launched in the Window Galleries at The Randolph Hotel by Graduate Hotels®.
The exhibition, which is a solo show by Blackbird Leys based artist Nadine Williams also known as Nabawanuka Creations, is presented by the African School with support from Fusion Arts.
The Randolph Hotel has been shut for the past eight months whilst undergoing an exciting refurbishment and will be relaunching in late August with a redesign inspired by the unique heritage and history of Oxford as part of Graduate Hotels.
Art in Nadine's show honours the heritage of Oxford's African and African Caribbean communities, extending the celebration to these groups, who are not typically mentioned in representations of Oxford's history. Read Oxford City Council's statement on the Windrush Generations' contribution to and history in the city.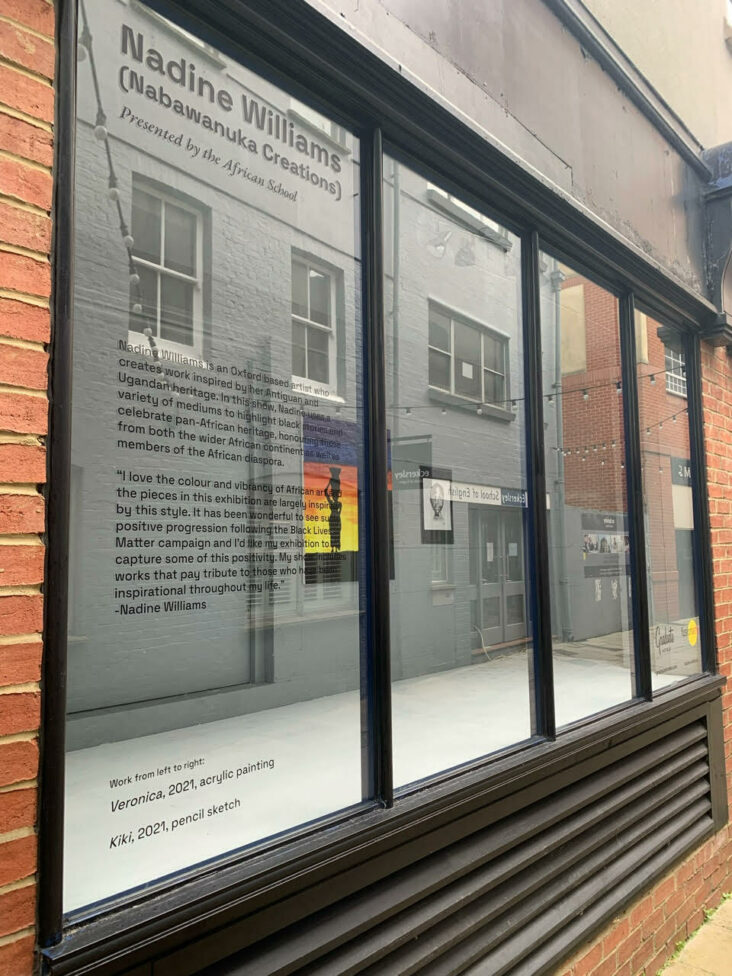 The #WindowGalleries, which are located along Friars Entry in Oxford, are an innovative collaboration between Fusion Arts and the Randolph Hotel by Graduate Hotels. The project aims to connect and support Oxford's communities, creating a lively space for the public to experience inspiring work by local artists. Rejuvenating the area in this manner helps bring vibrancy and intrigue to the otherwise empty windows that so many people pass by each day.

#WindowGalleries kicked off last October with an exhibition showcasing the work of six local creatives, whose pieces ranged from drawings and paintings to ceramics and sculpture. Nadine's show marks the first artwork to go on display on the space this year, with plans for further exhibitions to come later this year and into 2022.
Nadine's show in the #WindowGalleries features a number of works she has been developing over the past two years in a variety of mediums including collage, painting and writing. The exhibition continues Nadine's exploration and celebration of her Pan-African (Antiguan and Ugandan) heritage, with art honouring those from the wider African continent such as Nelson Mandela, as well as well known members of the African diaspora including the Jamacian Augustus Pablo. The work combines elements of African and Western art, bridging the gap between art and craft. This exhibition is particularly pertinent following the surge of the Black Lives Matter movement last summer. At a time when it is socially and politically vital to recognise Black experiences, Nadine continues to use her creativity as a means to tell Black stories.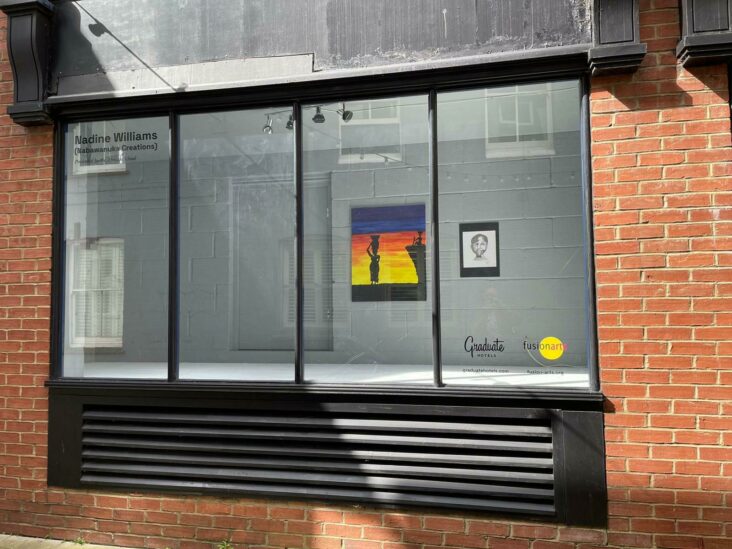 Exhibition and Artist Background
Nadine, who started creating art professionally in 2019, specialises in painting, collage upcycling and interior design. Her practice is heavily connected to personal heritage and she produces art under the name Nabawanuka Creations. Nabawanuka is her middle name, given to her by her Ugandan father, meaning ''sent with blessings''.
In October 2019, Nadine had her work exhibited at Fusion Arts in partnership with the African School as part of celebrations for Black History Month, and has since been featured locally in Leys News and Daily Info, as well as internationally on the Italy-based Reggaediscography website.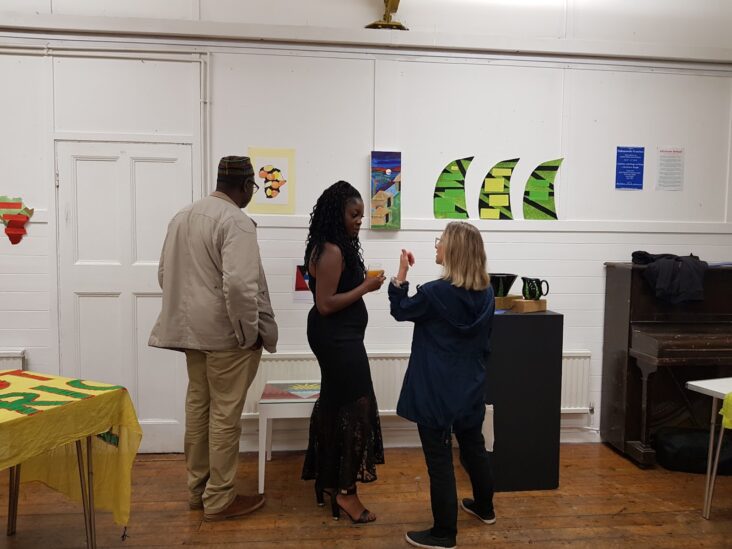 More recently, Nadine's art was displayed in a pop-up exhibition in Templars Square Shopping Centre as part of a popular June 2021 community event for the Oxford Windrush Festival. Her eye-catching paintings and glimmering mosaics complimented the other activities of the day, which included mask-making, a steel pan performance and African studies workshops.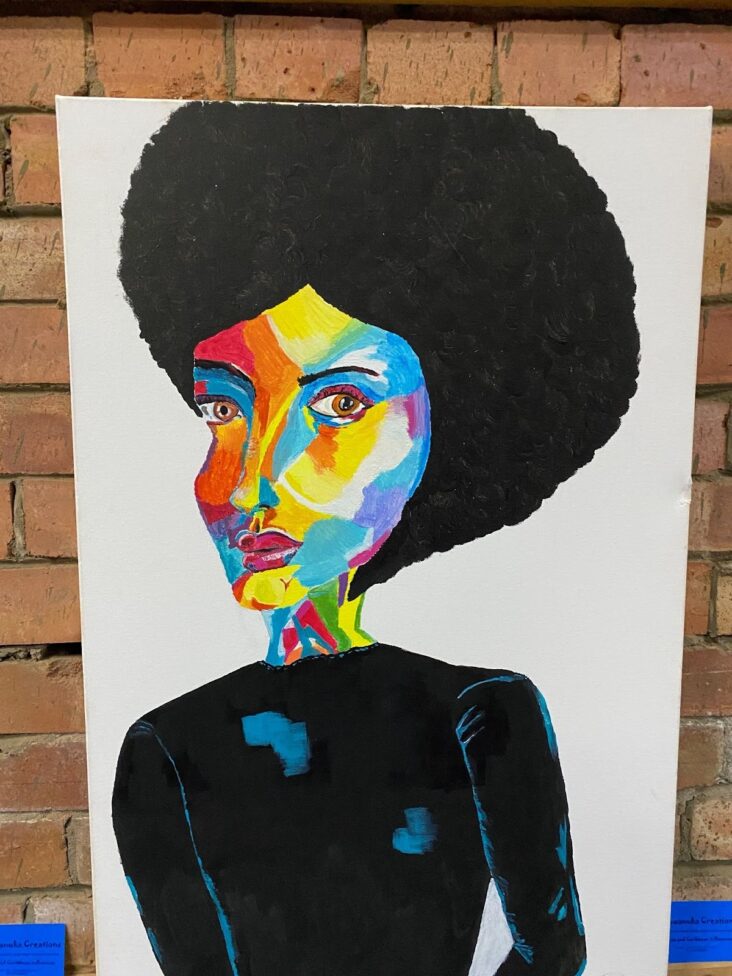 Of the new #WindowGalleries exhibition, Nadine comments:
"This show is largely inspired by African art. I grew up surrounded by African artefacts, as a child, my home was filled with different pieces. I love the way colour and vibrancy are featured within African art and I am inspired to emulate this in my artwork.
As a teenager I travelled to Egypt and fell in love with hieroglyphics, the way in which Egyptians use the colour gold, and the intricacies of Egyptian craftsmanship and sculpture. My collage of Queen Nefertiti celebrates this love of Egypt.
It has been wonderful to see such positive progression following the Black Lives Matter campaign and I'd like my exhibition to capture some of this positivity. It includes some of my role models from the well known Martin Luther King and Maya Angelou to everyday people such as my mother, the late Veronica Williams and our family friend Junie James, both of whom have made amazing contributions to the lives of the black community in Oxford and have been inspirational and loving role models throughout my life.
There are also pieces based on my take on some of the African artists that inspire me, including Louis Malou Jones and Augustus Savage.
As a senior social worker in adoption, I am in the process of writing and illustrating a book about transracial placements and how the identities of BME children need to be nourished, maintained and celebrated. One of the illustrations, which will feature in this exhibition, depicts an African girl who is placed within a transracial adoptive family.

I hope to create an atmosphere of celebration, positivity and progression. For me art is therapeutic, calming and inclusive and I hope others enjoy my pieces and my vision.

Acknowledgments
This project has been made possible with the support of The Randolph Hotel by Graduate Hotels and through the Culture Recovery Fund grants awarded to Fusion Arts from Arts Council England on behalf of the Department for Culture, Media and Sport. #HereForCulture.