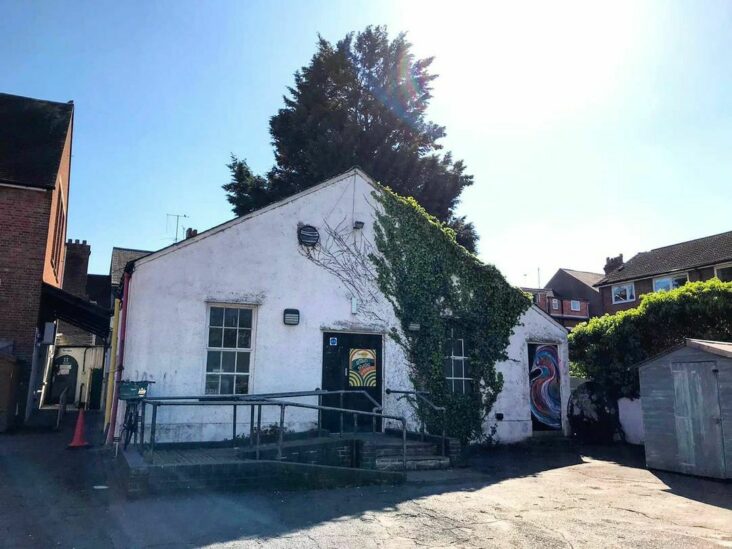 22nd April 2022
Dear Oxford Community,
We wanted to expand on the statement that we released on Wednesday evening regarding our concerns with Oxford City Council's upcoming redevelopment plans for the Fusion Arts and East Oxford Community Centres.
In case you missed our update, we are very sad to confirm the upcoming temporary closure and demolition of the Fusion Arts Centre as part of Oxford City Council's scheme to redevelop the East Oxford Community Centre (EOCC). Fusion Arts and all seven other current EOCC tenants have been told to leave the premises by 28th April 2022. The Council plans to move all eight EOCC tenants to a vacant shop unit in Cowley for the duration of the redevelopment, which is due to last over two years!
All the organisations based at EOCC are staunch supporters of high-quality community investment that is environmentally, socially and economically responsible. Unfortunately the current redevelopment plans fall significantly short of these responsibilities. Counter to Oxford City Council's assertions, they risk being seriously detrimental to Oxford's communities.
We are additionally concerned about the viability of this scheme. Our present economic crisis is a serious risk. Should the redevelopment go ahead, the rising costs for materials, transport, labour and living costs mean that the proposed project cannot be delivered within the current budgets and on time. Moreover, this crisis means that the community needs more support and space, not less!
We find the redevelopment plans to be unsuitable on a number of grounds, chiefly:
Environmental
The structure and construction of the current refurbishment plan has pretty much remained unchanged for the past five years, and has become outdated in its approach to tackling carbon emissions. Findings published in the IPCC 2022 Mitigation of Climate Change Report just two weeks ago conclude that in developed countries, the efficient and well implemented retrofit of pre-existing buildings, rather than complete redevelopment, has the highest potential to help mitigate greenhouse gas emissions and contribute to sustainable development goals.
Given that one of the stated aims of this redevelopment was to create a more energy-efficient and environmentally-friendly EOCC, plans to demolish and rebuild the Fusion Arts and Oxfordshire Chinese Community and Advice Centres run completely counter to this.
Oxford City Council were the first in the country to announce plans to make Oxford a zero-carbon city by 2040. By not rethinking these redevelopment plans, they fly in the face of their own policy, and fail to make the most environmentally sustainable decision in the long-term.
The buildings planned for the site are not environmental best practice or eco-homes. They will not run efficiently enough and have not been planned with increased extreme weather events in mind. Instead of raising carbon emissions, we should be reducing them.
Social
Time and time again, having a sense of community and being able to utilise and access community spaces and services has been seen to bring a myriad of benefits for individuals and society. These include reduced isolation, increased inclusion, improved mental and physical health, resilience and connectedness, as well as opportunities for self-expression, creativity, culture, education, support, social justice and much more. This is exactly what the services run by Fusion Arts and the seven other EOCC tenants offer to residents in the Oxford East constituency and beyond. A large part of this relies on relationships and our connectedness, accessibility and physical presence within the community. By relocating all EOCC groups to vacant shops in Cowley for at least the next two years, access to these services is being disrupted and dislocated at a time when it is needed more than ever.
If we are in Cowley rather than central East Oxford, all relocated EOCC tenants will suffer from a lack of presence and connectedness to the communities we serve. Therefore the Council's plans do not take into consideration the present and future needs of communities.
We are emerging from a two year pandemic and are entering into a time of unprecedented economic crisis, hitting the least well-off the hardest. Now, on top of this, under current plans, vital community spaces and support in East Oxford will be rendered inaccessible to many once again.
During the redevelopment, Fusion Arts and the community will lose access to our yard, which has played host to fun and togetherness through hundreds of events gigs, community arts projects, festivals, exhibitions and more over the past 45 years. In the new development, it will be replaced with a smaller shared courtyard and a balcony space.
The Fusion Arts Centre is an important social space for individuals, communities and artists to come together. During the upcoming relocation phase, we will also lose our large community function space. It serves as one of the only affordable (and regularly free), non-private or institutional creative spaces people can use in Oxford. While some community space is a part of redevelopment and relocation plan, the proposed space is significantly smaller overall, and will be inaccessible for the next two years.
Economic
The unprecedented global economic downturn that we are currently facing puts the viability of the current redevelopment plans into serious question. Due to known costs, the proposed development is now unachievable within the planned budget.
All eight EOCC tenants have fears about the feasibility of the scheme, particularly when faced with at least two years of reduced operation as well as the financial and time complications that will inevitably ensue. Without knowing the timescale and terms of our return to EOCC we have been unable to plan for the future and are collectively unable to ensure the economic sustainability, resilience and safety of our organisations.
Lack of clear communication from the Council
We have written to the Oxford City Council sharing the above concerns as well as outlining further reasons that the proposed temporary relocation venue does not meet our legal, safety or other minimum requirements to serve the community. Although they have acknowledged our concerns and agree with many of our points, we have received little clarity or information. The Oxford City Council Officers' failure to communicate with us in a timely or clear manner has made it impossible for us and our fellow EOCC tenants to plan properly.
We are saddened and confused by these circumstances and hope that these urgent issues around suitability and sustainability are listened to, considered and acted upon immediately.
Thank you to all those that have already reached out to support. Do get in touch if you can help by DMing us on social media, using our website contact form or emailing info@fusion-arts.org.
We would also love to hear your stories and memories of the Centre.
With love and hope,
The Fusion Arts Team in solidarity with the EOCC-Together Group