Just over seven months ago we started work on converting an empty retail unit in Gloucester Green, Oxford into an active, multi-purpose creative space.
We partnered with landlord New River REIT to creatively activate the space as part of Makespace Oxford's Meanwhile in Oxfordshire programme, which is seeing 50 dormant units transformed into vibrant hubs for community and culture across Oxford and Oxfordshire.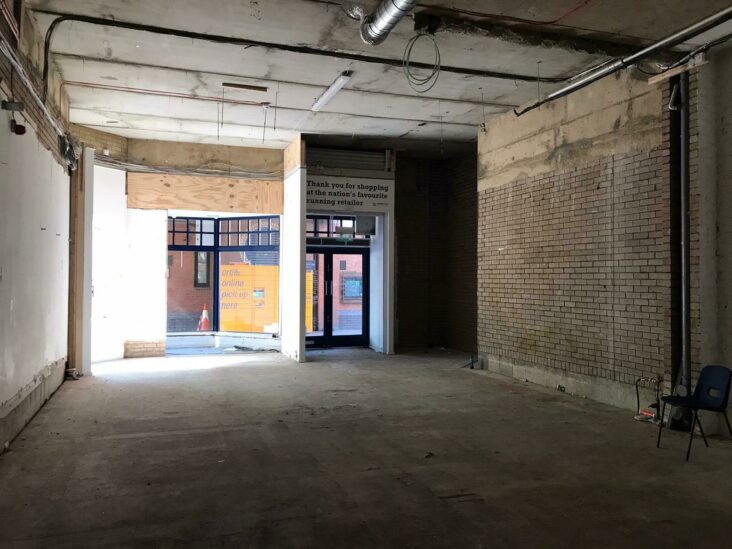 Creating 95 Gloucester Green
When we were first given the keys to 95 Gloucester Green the space was in need of a little TLC! Over the course of a couple of weeks our team worked hard to refurbish the space by cleaning, tidying, finishing off the walls, floor and ceiling, installing power and an accessible kitchen at the lot. The kind folks at the nearby Arts at the Old Fire Station lent us ladders and brooms which aided our work and enabled us to save energy and resources and make use of pre-existing equipment.

While the inner refurb was being done, we worked with Bounce to design some bright and attention-grabbing window vinyls that created buzz around the new space and gave the space a distinct brand identity while showcasing its connection to Fusion Arts.

These were installed onto the unit's windows and in mid September 2021 we were ready to launch!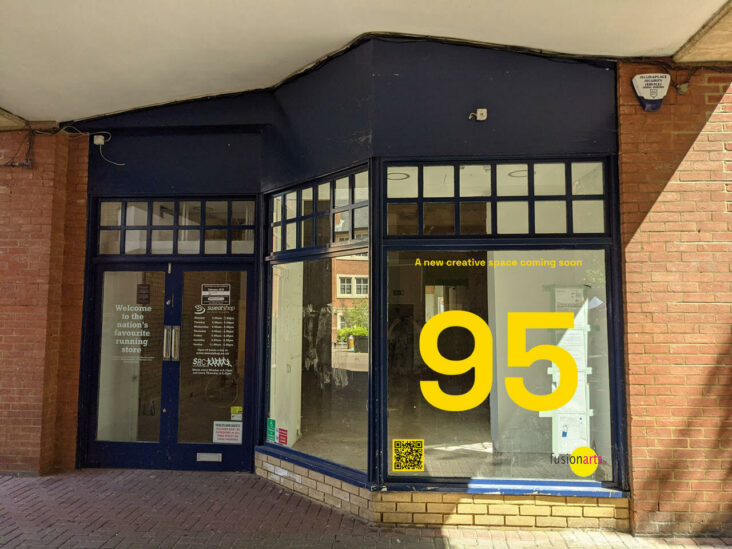 What have we done in 95 Gloucester Green so far?
Elder Vernacular

On the 25th September 2021 95 Gloucester Green was launched with Elder Vernacular, a drop-in workshop and window exhibition by artist Nor Greenhalgh as part of the community and horticulture project Fig for Oxfordshire's Great Big Green Week.
Elder Vernacular is a research project that is compiling a palette of art materials grounded in the East Oxford landscape. Nor & Fig are interested in the rediscovery of a visual 'vernacular' in the contemporary context of COVID and climate change, which have both encouraged city dwellers to embrace their immediate local surroundings for both their psychological and physical wellbeing.
For the workshop, people were invited to drop in & experiment with a number of natural and locally sourced materials including plants, flowers, dyes and papier mache to create biodegradable artwork.
Meanwhile, the exhibition featured artwork and materials that were developed as part of the project, including experiments and art produced in workshops with Restore's Elder Stubbs Recovery Group along with natural inks, paints and sculpture materials all sourced from the East Oxford landscape. The exhibition ran in the windows of 95 Gloucester Green for three weeks before moving to 51 Between Towns Road.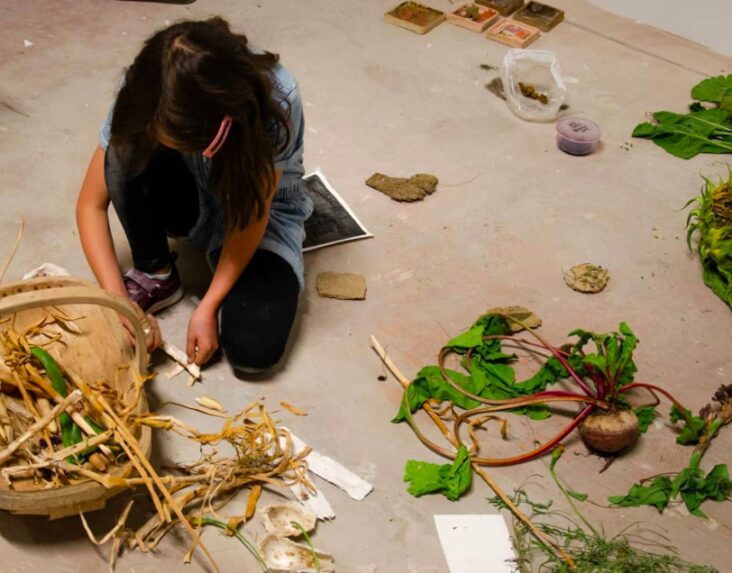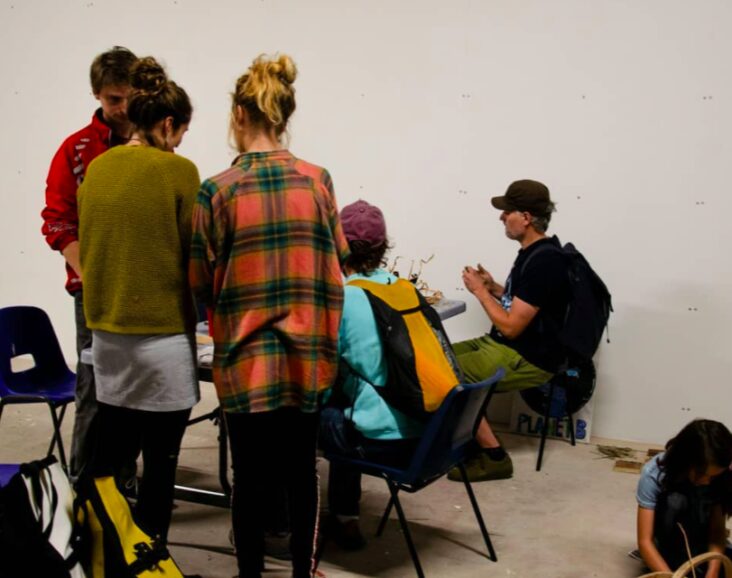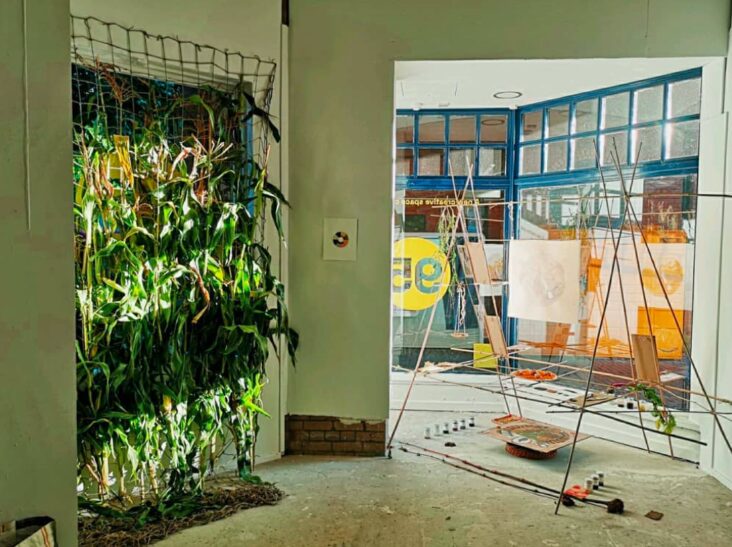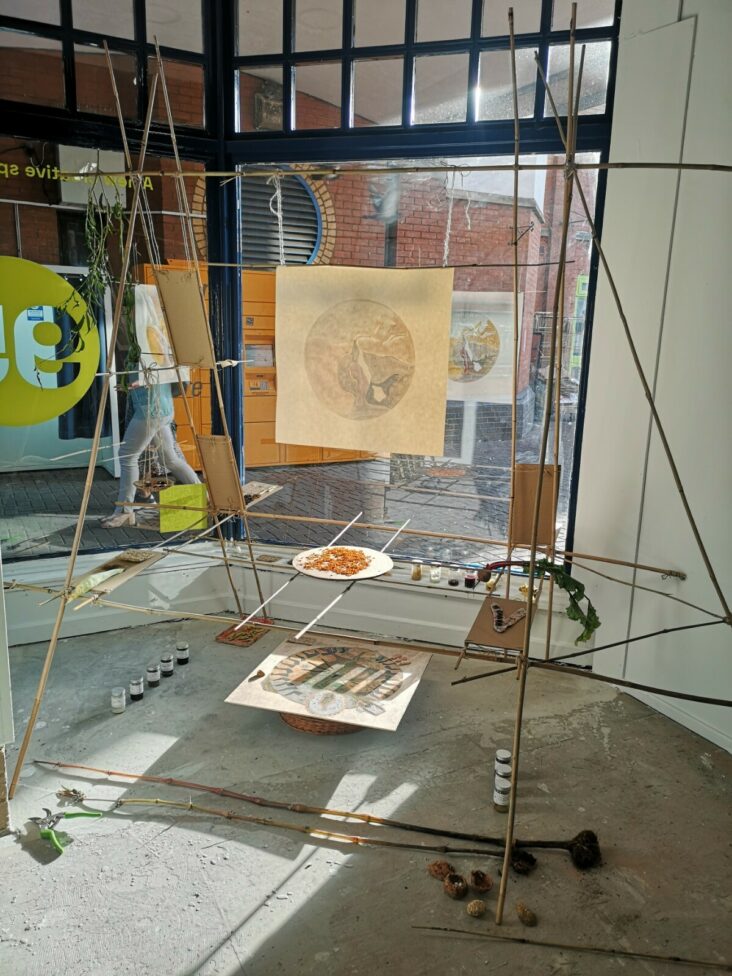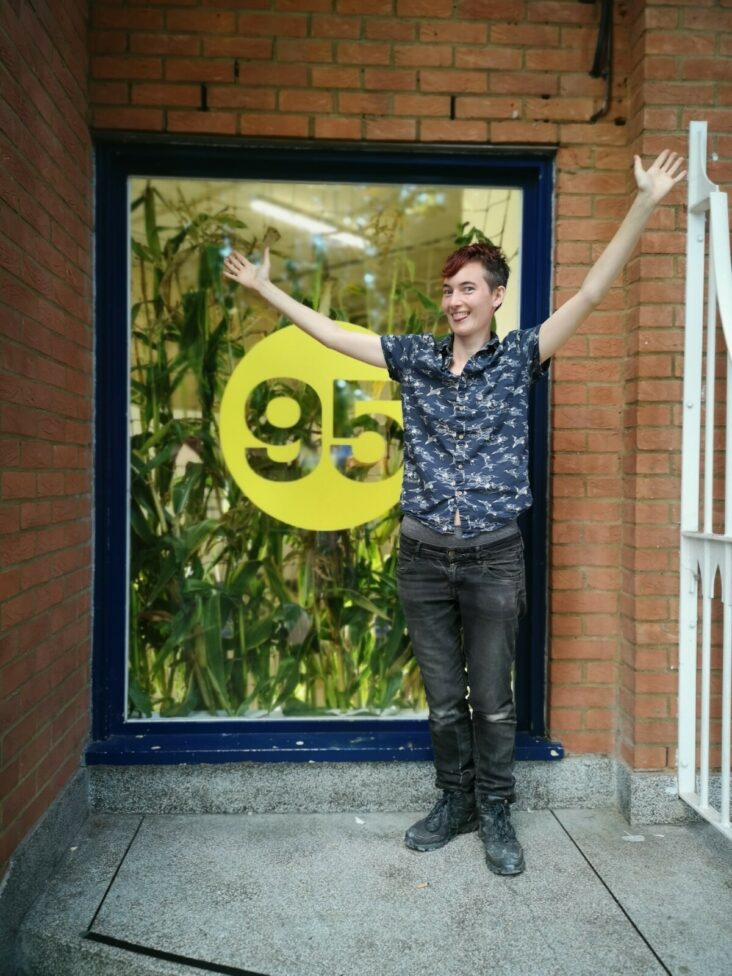 Call of the Silent Cell
After Elder Vernacular moved to its new home at 51 Between Towns Road, the Upcycled Sounds pop-up recording studio and gallery space, 95 Gloucester Green welcomed the launch of another exhibition, One Cell At A Time.
One Cell At A Time was a national project bringing together 13 newly commissioned artworks and creative learning projects inspired by the work of the Human Cell Atlas. The HCA is a global scientific research initiative that aims to map every cell type in the human body as a basis for both understanding human health and for diagnosing, monitoring and treating disease.

One Cell At A Time artworks were created through virtual collaborations between visual and digital artists, inventors, designers, poets and dancers, members of the HCA, local communities and schoolchildren from across the United Kingdom (including Oxford) throughout 2020 and 2021. In Oxford, we worked with artist duo boredomresearch to produce Call of the Silent Cell, an experimental short film of cellular behaviour exploring the interplay between the gut microbiome and the immune system. The film takes viewers on a poetic journey through a forest with an old man who encounters a storm, not of breath and air, but of cells and their signals. Using this storm as a metaphor, the film reveals links between our biomedical and environmental health and reflects on recent single cell analysis findings.⠀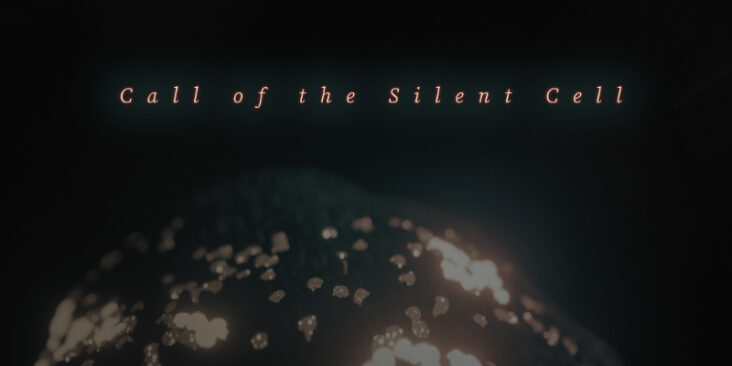 In celebration of the launch of One Cell At A Time, Call of the Silent Cell premiered live at 95 Gloucester Green, on the 30th October 2021 alongside a Q&A with the artists and scientist Marcin Pekalski, who advised on the science that informed this project.
The event was a great success with more than 40 people of various ages and demographics attending this intriguing event to learn more about the work, and the genetics and immune system science that inspired it. You can view Call of the Silent Cell here.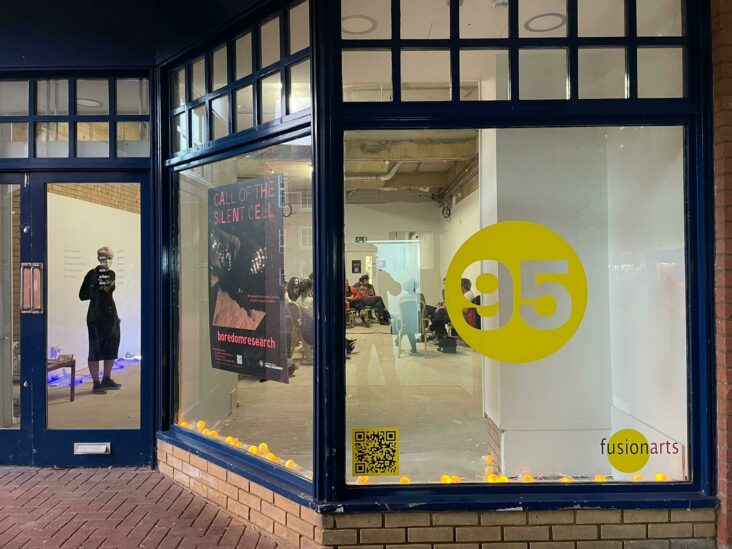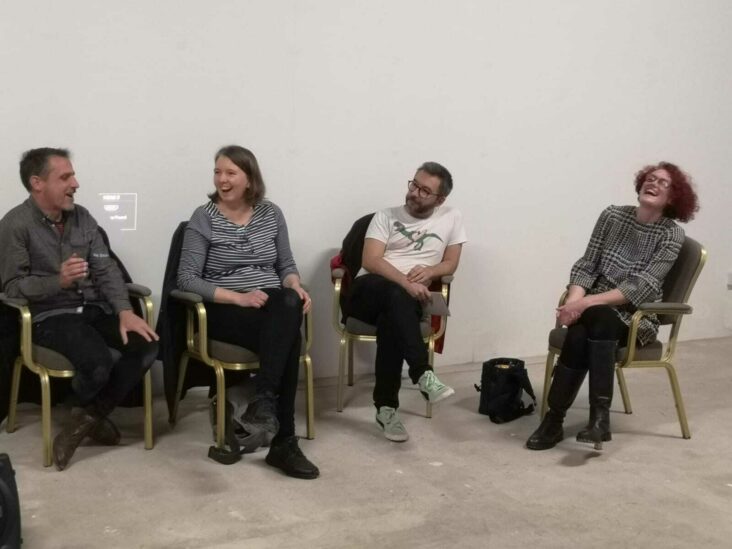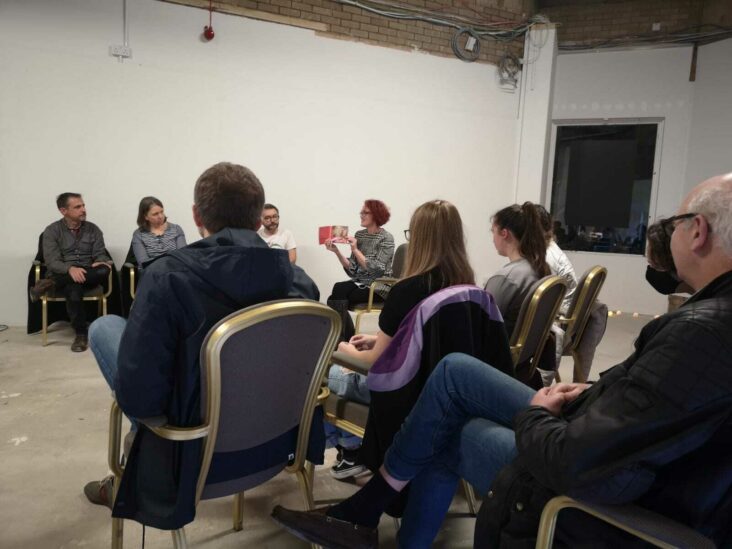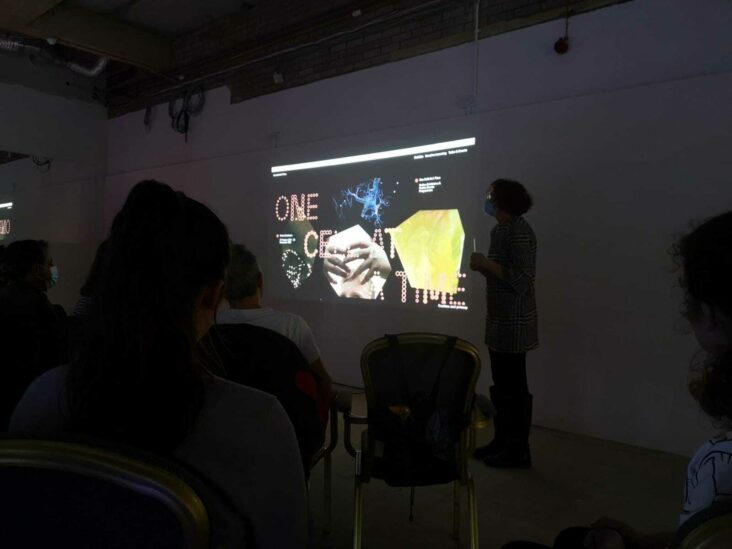 My Neighbour's Meal

Following the film premiere, we next made use of the space with My Neighbour's Meal, an exhibition by Ruskin School of Art DPhil student Eiko Soga. Soga's ethnography-led art practice explores the interrelationships within historical, cultural, emotional, and natural landscapes. Her research uses storytelling as a way to observe and document how minor, ephemeral, and sensory aspects of everyday processes can lead to bigger phenomena
such as collectiveness and the development of culture.

My Neighbour's Meal was one of three exhibitions by Soga that were on show in Oxford city centre simultaneously; the other two were in our #WindowGalleries along Friars Entry, and in the Pitt Rivers Museum respectively. Each exhibition combined video, poetry and ethnography based on the value system of the Ainu, who are the indigenous people of the Japanese and Russian owned lands surrounding the Sea of Okhotsk. The work focused on women's affective gestures, and questions how art might engage with a sense of value that generates ecological and empathetic knowledge. Soga spent time with Ainu communities in Samani, Hokkaido, Japan to connect and develop the work.
My Neighbours Meal ran at 95 Gloucester Green between the 8th -19th November 2021 and used photography and video installations documenting the food and cooking practices of the Ainu people to explore the question: Do you ever envision the kind of culture your neighbours grew up with and lived in?
Soga's goal with this work was to encourage audiences to be interested in the culture of people who are close to us physically but who might be far away emotionally and culturally.
More information on all three exhibitions can be found here.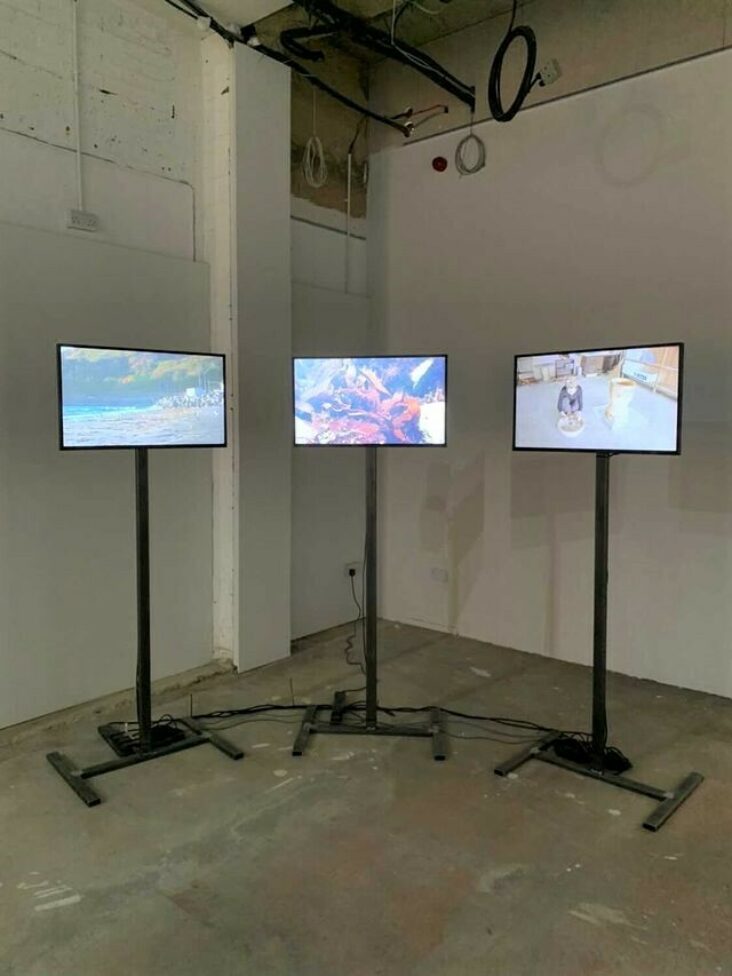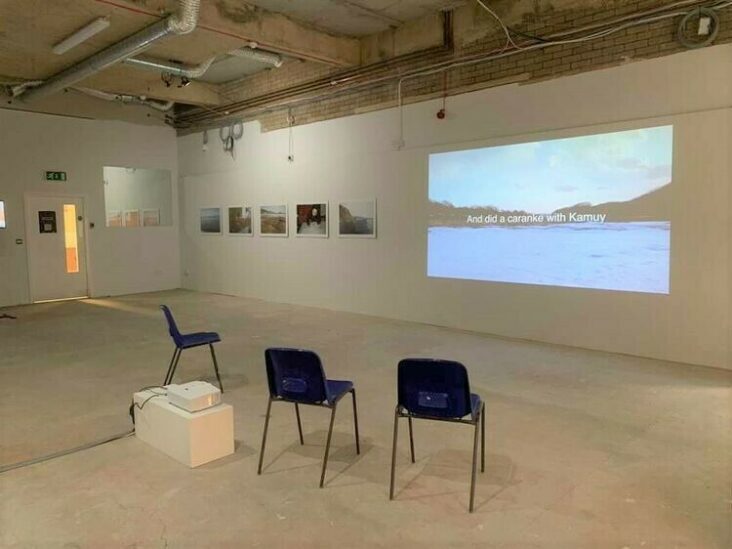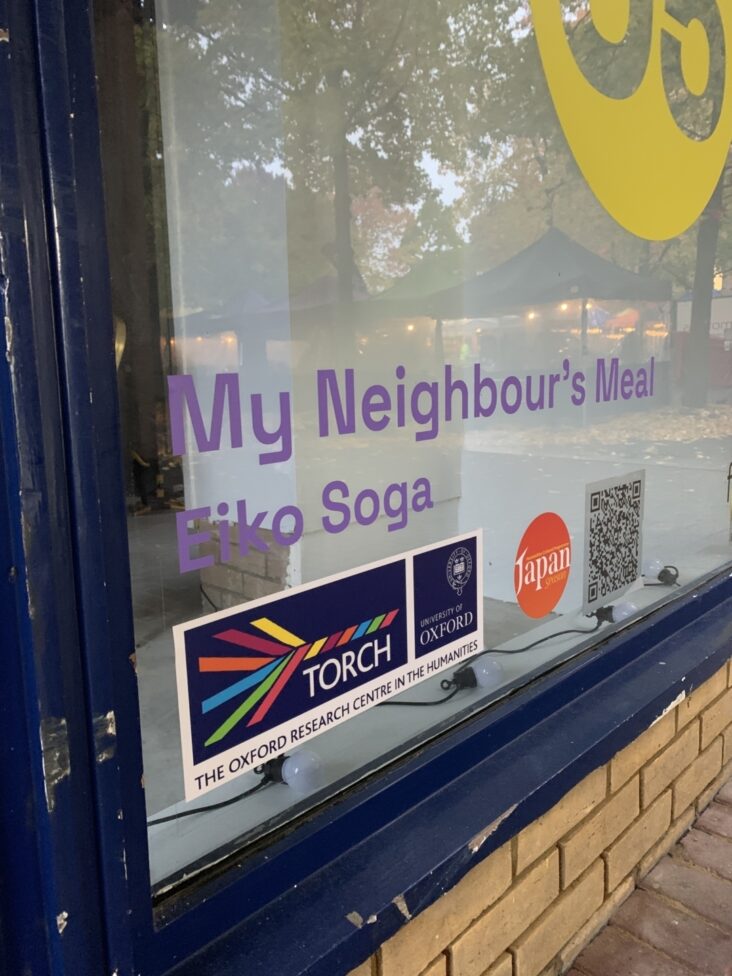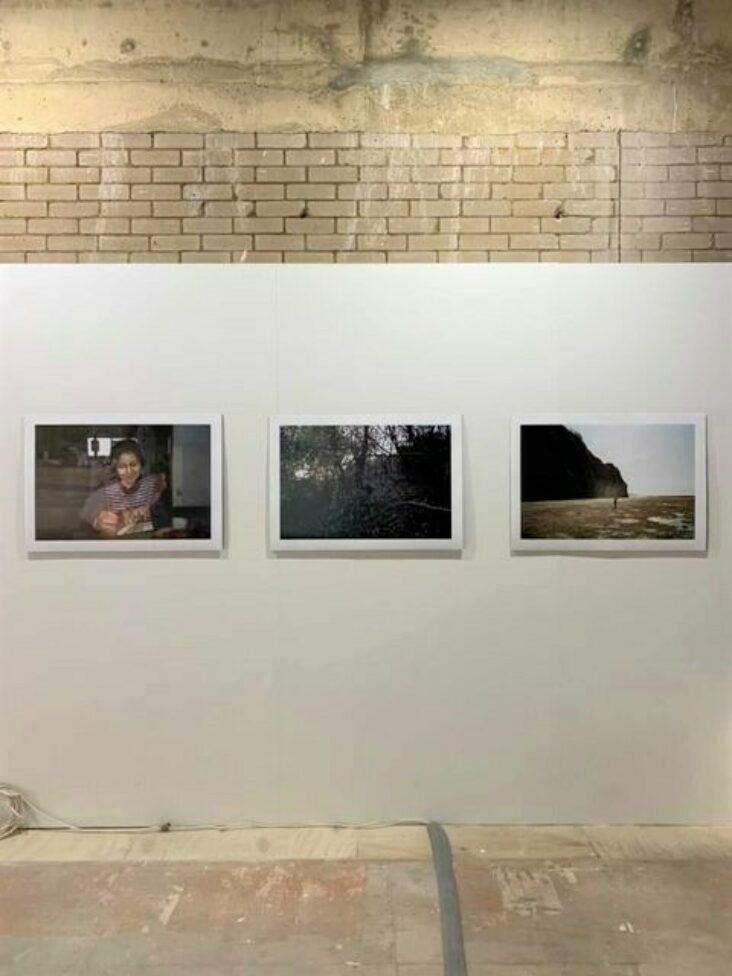 Ruskin Art Sale
After Soga's exhibition, the space was next put to use for the Ruskin School of Art's end of year art show. Over the weekend of the 27th - 28th November, the space was transformed into a pop-up art market. People could browse through and purchase a variety of original artworks created by Ruskin students and alumni. 50% of the sale's profits went towards fundraising for their 2022 Degree Show.

Lantern Magic
Following the success of the Oxford Light Festival community event Finding the Light in Florence park in late November, we decided to extend the celebrations and give people some more time to enjoy the lanterns made for this event by putting them on display in 95 Gloucester Green.
The lanterns have been up in the windows since mid-December and will remain there until the end of January should you want to go and check them out!

These creations were made by artists, schools and groups. The larger lanterns are based on endangered animals and were created by artists Grace Exley, Mani Manson-Reeves and Paul Batten using sustainably sourced willow and tissue paper. While they look lovely and bring the windows to life, they also convey a more serious message about the pressure that our ecosystems are under as a result of global warming - reminding us of the beauty of what we have, and that we need to work hard to save it!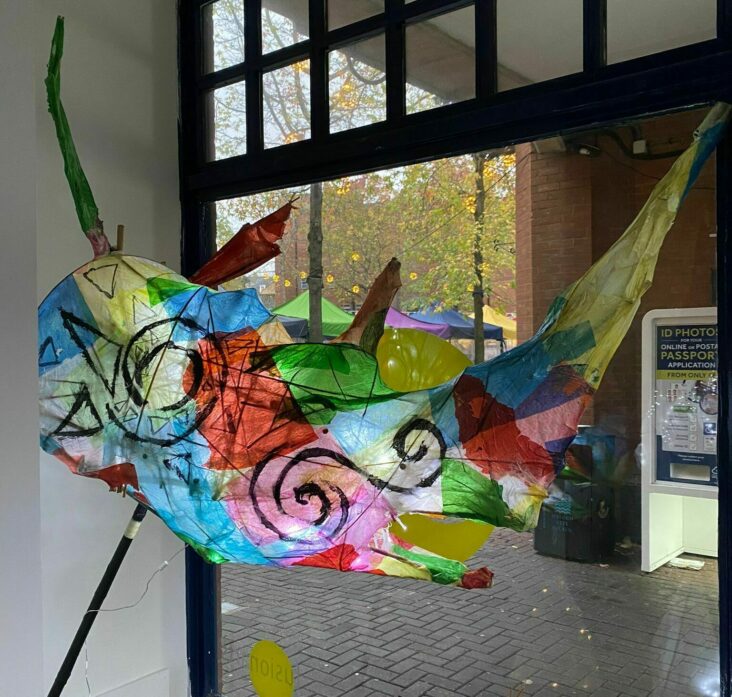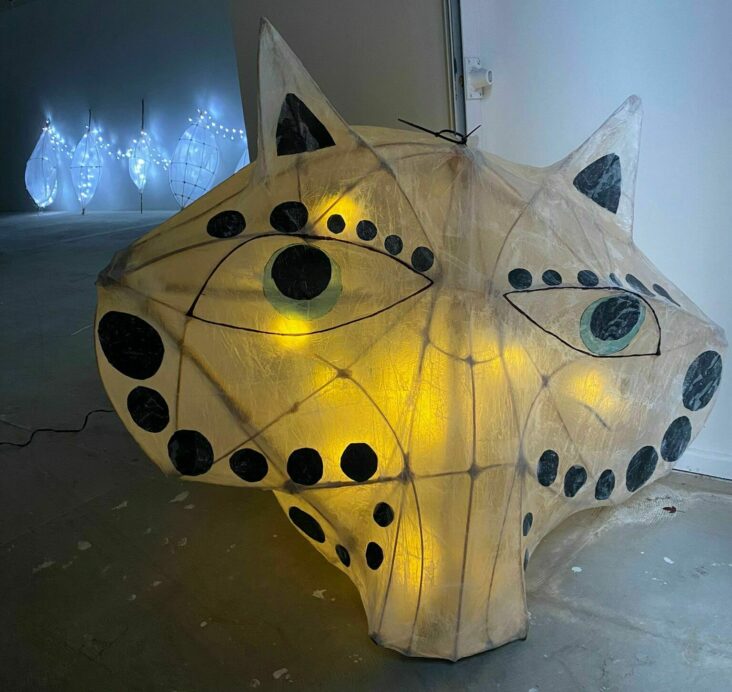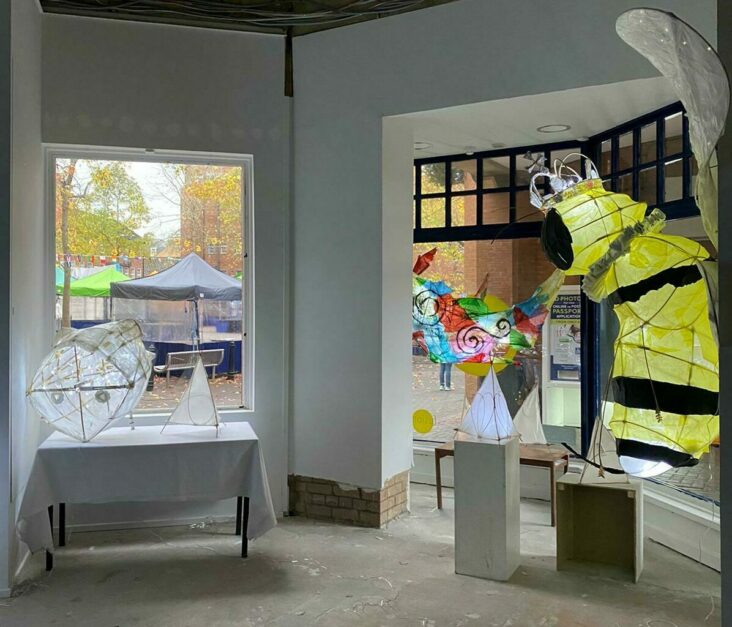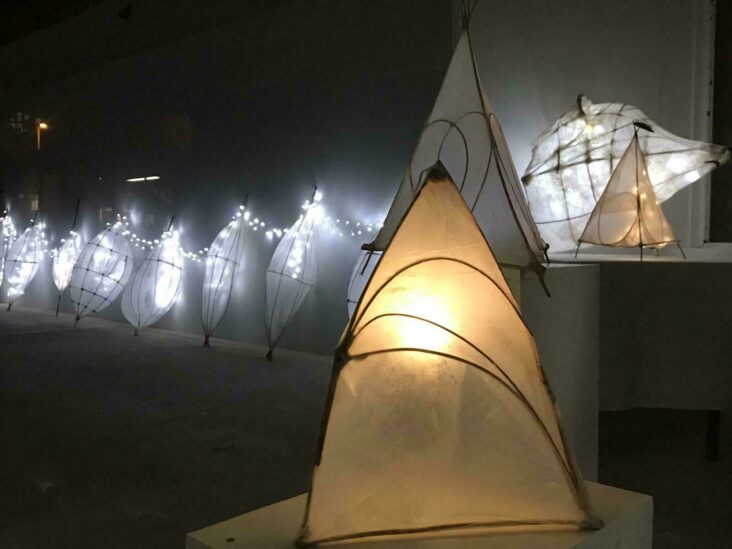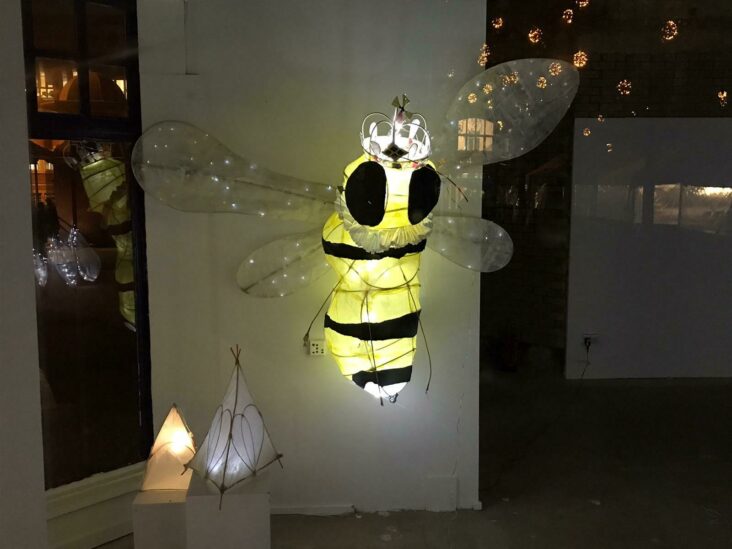 Future Plans

There are lots of exciting plans in the pipeline for this multi-purpose creative space, ranging from use as photography studio, to pottery shows, to touring exhibitions. In particular, this March, the space will be playing host to a new rendition of the touring exhibition Some of Us Are Brave to coincide with International Women's Day. This exhibition showcases the feminine, form and function of black women's creativity and celebrates the work of black female artists. If you are interested in exhibiting work in this new exhibition please visit our opportunities page for further information, or if you have another idea for creatively animating 95 Gloucester Green, get in touch with us.
Overall, we are really proud of this city centre accessible creative space and what we have been able to facilitate with it during the last four months, and we are looking forward more exciting times ahead! Watch this space...